About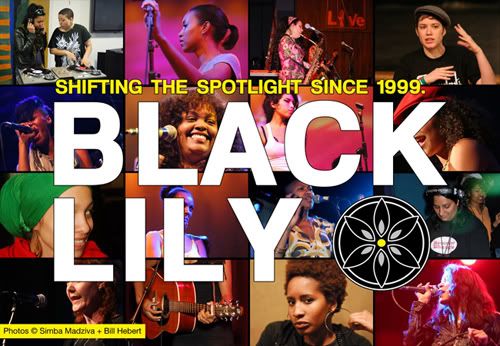 The BLACK LILY flower is one of the most rare varieties.
Similarly, the BLACK LILY brand is known for developing and promoting cutting edge artists, of all backgrounds, whose voices whose voices have been lost of shuffled in out commercially dictated culture.
BLACK LILY: A WOMEN IN MUSIC SERIES was an artist development showcase that was established in 1999 by critically acclaimed duo, the Jazzyfatnastees. Founders Mercedes Martinez and Tracey Moore created the series to support female vocalists and musicians who were being shut out of existing jam sessions around the country. The first series took place weekly at the Wetlands in New York (1999) and later became a weekly series at the Five Spot in Philadelphia (2000-2005).
BLACK LILY events have been held in London, Paris, Japan, San Francisco, Washington DC, Boston and most recently, Los Angeles.
The groundbreaking film and music festival, co-founded by Martinez, Moore, and filmmaker Maori Karmael Holmes, sought to highlight groundbreaking women filmmakers and musicians. Four-day multi-venue festivals took place in May 2007 and May 2008 in Philadelphia to crowds nearing 1,500.
In 2009, the festival temporarily scaled back and launched PLANET ROCK: A HIP HOP FILM SERIES which will take place monthly at venues throughout the Philadelphia area. As well, the organization continues to partner with other organizations to present the work of innovative underground artists.
MISSION
Black Lily, Inc. is committed to supporting women artists of all ages, especially musicians and filmmakers, both emerging and established, by highlighting their work and providing opportunities for networking and training. Black Lily, Inc. values women's voices and seeks to educate the general public about the importance of women's art. We value politically conscious art and underground art, and we are dedicated to education, diversity and collaboration through art, culture and entertainment.